Regular price
$259.00 CAD
Regular price
Sale price
$259.00 CAD
Unit price
per
Sale
Sold out
Keep your boots, gloves, helmets and more dry on-the-go with the GearDryer Solo. With over 130 CFM of forced air, 5 adjustable Twist-and-Lock ports, an included Helmet Holder, and both 12-volt car adaptor plug and 120-volt wall plug options for use at home or on the road, the Solo is your go-to drying solution.
130CFM of forced air is blown directly into gear for fast drying times
Helmet Holder attachment included
Easy to wall mount in your garage or mudroom--no professional installation required
Fully portable--use the included 12-volt car adaptor in your vehicle, or use the included 120-volt plug at home, hotels, or AirBnB's.
Customizable ports offer adjustable configurations for drying all kinds of gear. The Solo's ports are also removable so the Solo takes up a small footprint on road trips and adventures.
Heavy-duty steel construction with a durable powder coat finish
13.5"W x 5.5"D x 6"H | 7lbs
Dry up to 5 different items at once at home or in your vehicle, and say goodbye to cold and wet gear. Configure your 5 Twist-and-Lock ports to accommodate any type of wet or sweaty gear, select a fan setting from Low, Medium or High, and let the Solo do its work. Leaving wet gear overnight is a guarantee for odor and increased wear, and the Solo not only makes for better days, it also increases the lifespan of the gear that you rely on for work and play. The garage and mud-room friendly aesthetic increases both form and function of your storage space, and the added mobility of the 12-volt car jack doubles down on the Solo's utility. From waders, to hockey gear, to work boots, to ski and snowboard boots, to helmets of all kinds, to cleats, to gloves, to jackets and more, the Solo is the dynamic solution for keeping your gear dry, clean, and warm.
View full details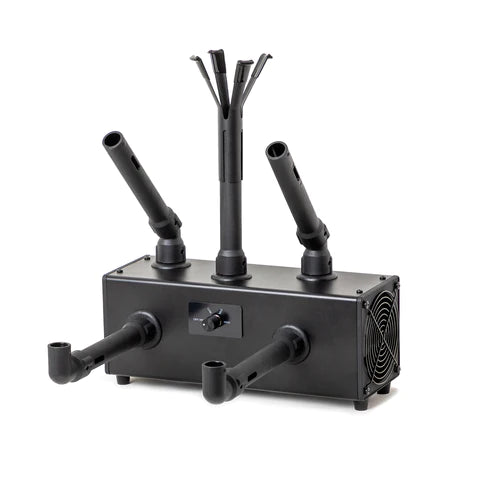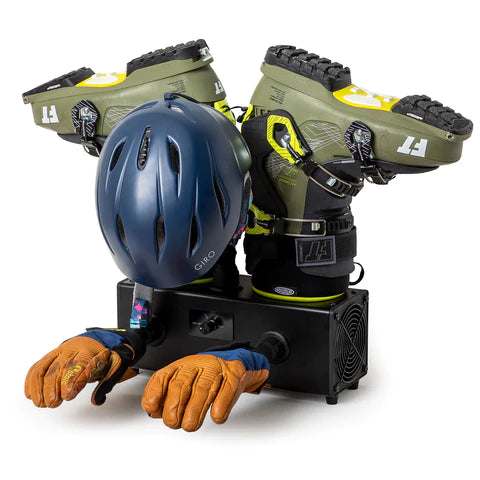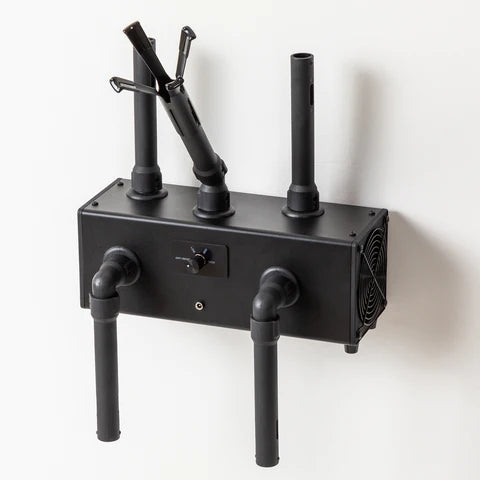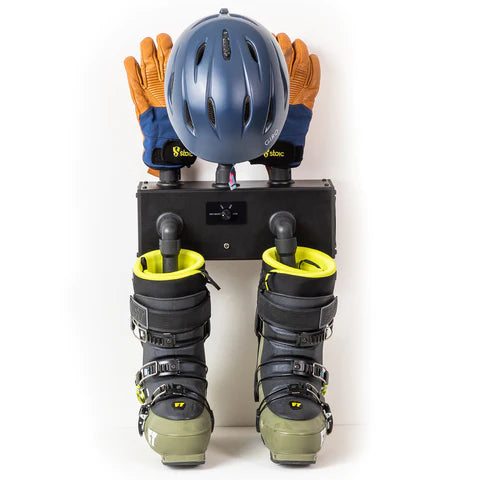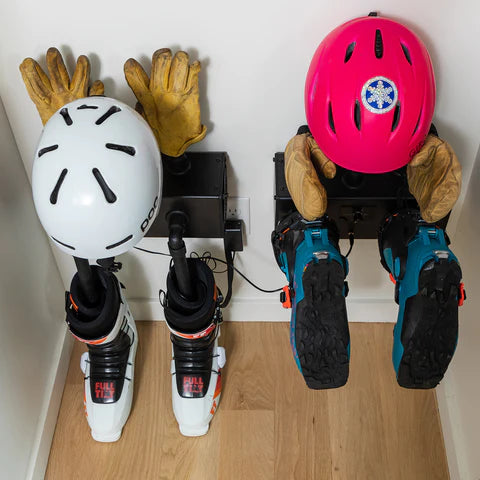 Frequently Asked Questions
Is it easy to assemble?

Yes. It is pretty easy to assemble. You will need to find a "stud" on the wall of your garage or basement to mount it to.

That is probably the most "difficult" part, which is not very difficult at all.

After that, you simply need to follow the instructions and you will have it set up in no time.

We have had children as young as nine years old set it up themselves.
In what kind of package is it shipped?

It is shipped in a standard shipping box, similar to what you would get if you bought a table or something like that.

All of the parts are secured and protected inside the box with cardboard, foam, etc.
Does it come with all the parts I need to assemble it?

Yes, it comes with everything you need. Our design is very intuitive, sturdy, and easy to assemble.
How do I set it up?

There will be instructions within the box, and there is an instruction tab on our website if you want to check it out before you buy, or if you lose the instructions.
Are there discounts if I buy more than one?

Yes. We offer discounts if you want more than one Stax Trax (eg. you have three kids who play hockey and they all want one).

In this case, please contact us at brad@staxrax.com and we will get you sorted out with a discount.